Keep COVID-19 in Check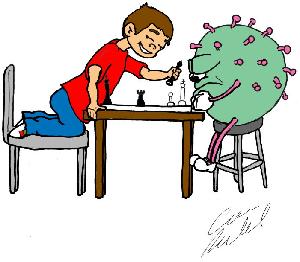 Check out our national fundraiser page for Feeding America: https://teamfeed.feedingamerica.org/participant/KeepCOVID19inCheck
Check out our interview with News 5 Cleveland: https://www.news5cleveland.com/rebound/coronavirus-money-help/solon-brothers-who-are-national-chess-masters-make-moves-to-fight-food-insecurity-in-greater-cleveland
Check out our interview with Solon Times: http://www.chagrinvalleytoday.com/communities/solon/article_e56a6918-e89f-11ea-b0a4-57dadde99087.html
Check out the article written by WGM Jennifer Shahade, two-time US Women's Champion: https://new.uschess.org/news/keeping-covid-check-keuchel-brothers-raise-money-cleveland-food-banks/
The COVID-19 outbreak has put immense pressure on organizations helping Americans survive. As three brothers who have been playing competitive chess for an average of over 14 years and teaching chess for more than 7 years, we would like to do our part in helping these organizations during this difficult time.
For every $50 tax-deductible donation to this page or to the Feeding America page (https://teamfeed.feedingamerica.org/participant/KeepCOVID19inCheck), we will give a one-hour online chess lesson. If you would like to schedule your lesson, please forward your donation confirmation email to us at keepcovid19incheck@gmail.com.
We also have a number of students who cannot afford lessons themselves, but are ecstatic about learning chess. If you would like to play a part in their learning experience, your sponsorship can go right into providing their lesson and helping them grow.
If you are not interested in having or sponsoring a chess lesson, please know that any donation amount is greatly appreciated. Please email us if you have any questions or suggestions. Thank you so much for your support as we make our move to help keep COVID-19 in check!
Connor Keuchel, National Candidate Master
Pediatric Neurology Clinical Research Coordinator, Washington University School of Medicine
Brennen Keuchel, National Candidate Master
Vanderbilt University Class of 2023
Destynn Keuchel, National Master
University of Pennsylvania Class of 2026
View More
Fundraising Honor Roll
Kenneth Keuchel and Haleh Ayrom-Keuchel Opportunity Fund
Ms. Valerie (Glauberg) Geller
Steve and Kathleen Gyomber